Last minute trip to the Camargue
In august my girlfriend, my parents-in-law and I left Belgium for a 2-week vacation in the Provence in France. We resided in a small chalet in the Luberon, a 3 hour drive northeast of the Camargue. Since this was primarily a family holiday and it is always better to keep your girlfriend satisfied, I could only leave them alone for a few days and visit the Camargue on my own.
Since I hadn't had the time to prepare this vacation very thoroughly, I didn't know much about what to expect from the area.
Like most nature photographers I prefer to photograph in the morning and in the evening, so I left my crappy hotel room after only a few hours of sleep, for my first day of photography in the Camargue.
Since I didn't know the region, I spent most of that day looking for good photographic opportunities for the next days.  Mas d'Agon, a small marsh, north of Vaccarès, seemed a very good place to photograph herons, egrets, waders and terns and I decided to keep that for the next morning.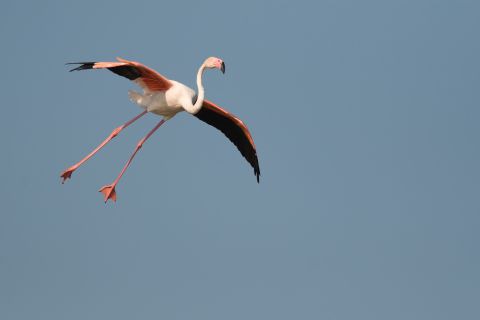 Pont De Gau
At around 5.30pm it was time to go the "Parc ornitologique Pont De Gau", situated northwest of Saintes Maries-de-la-Mer. Pont De Gau is actually a bird park, which has caged birds, but every evening at around 6.30pm a real spectacle takes place here. Greater Flamingos, the national pride of the Camargue, gather from all over the area to feed on krill that is thrown in the small ponds.  "Photographers, get ready to take great flight shots when these majestic birds fly in and land!"
It is strange to see that these flamingos now allow you to come close, were everywhere else in the Camargue I found them difficult to approach.
Day two
Day two started early again. I left the camping in Saintes Maries at 4.30 am to try my luck at Mas d'Agon, but when I arrived it felt as if World War 3 had just begun.  Apparently hunt season in France started that day so photography at Mas d'Agon was pointless, there were no birds to be seen.
But, fortunately, on my way back to Saintes Maries, an approachable Black Kite made up for the waste of effort that morning. 
Later that day I decided to take a walk along the "Digue" sea wall, starting at the car park east of town. This walk appeared to be a good choice and it kept me busy until sunset, photographing Terns, gulls and Flamingos in the Lagoons.
Day tree
The third day was already my last in the Camargue and after another night of only a few hours of sleep, I drove back to Mas d'Agon. Everything looked promising, the wind had lain down and there was no hunting today. It was still dark and accompanied by hundreds of mosquitoes, I laid myself down at the edge of the marsh, covered under camouflage nets and waited for Egrets or Waders to come close. 
It turned out to be a perfect morning; the sun broke through the clouds and Great and Little Egrets and Gulls were soon feeding only a few meters away from me, allowing me to take great shots.
Later that morning a little Egret was resting so close to me that only a close-up shot of his head was possible. It is on moments like these that you feel a close connection with nature and it is all made worth the effor
Even though my stay at the Camargue was quite unprepared, I soon came to realize that it really is a fantastic place for ornithologists. There is a good amount of birds of different species to be found and although spring must be even better than late summer, I was pleased with the results. It is definitely not the easiest place to photograph birds, but once you find your way around, great photographic opportunities will show up.  I found that the small marshes and creeks outside the main nature reserve are generally more suited for photography, allowing you to get closer to the birds.
But actually, since there are birds everywhere, the Camargue in general is a great place for bird photography and that is exactly why I intend to return here in the near future with a bit more time on my hands.